Georgia Surplus Tax Refund
You may be eligible for the 2022 Surplus Tax Refund
HB 162 allows for a tax refund out of the State's surplus to Georgia filers who meet eligibility requirements.
You may be eligible for the HB 162 Surplus Tax Refund if you:
File your Individual Income Tax Return for tax year 2021 and tax year 2022 by the April 18, 2023 deadline (or by October 16, 2023 if an extension was granted)

Had a tax liability for tax year 2021

Are a Georgia resident, part-year resident, or nonresident
Please allow 6-8 weeks for Surplus Tax Refunds to be issued (if you filed by the April 18, 2023 deadline)
Keep reading to learn more about the eligibility requirements and how to check the status of your Surplus Refund.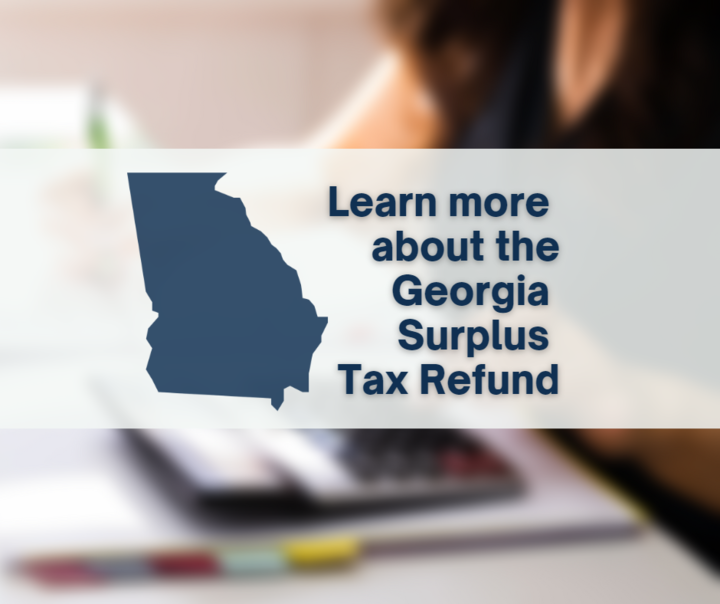 How Do I …
Learn More About the Surplus Tax Refund?
Check Your Surplus Tax Refund Online

To use the Surplus Tax Refund checker, you will need:

Your SSN or ITIN

The amount of your Federal Adjusted Gross Income listed on your 2022 tax year Georgia Individual Income Tax return

Form 500 – Line 8 or

Form 500EZ – Line 1

 

Are you eligible?

Still have questions about eligibility or how much you will receive?  Check out the examples in this video for more information.

Are you eligible?

Calculate Refund Amount

HB 162 allows for a tax refund out of the State's surplus to Georgia filers who meet eligibility requirements. Depending on your filing status and tax liability, you could receive a maximum of:

$250 for Single/Married Filing Separate

$375 for Head of Household

$500 for Married Filing Joint

Will I get a paper check or direct deposit?

Surplus Tax Refunds are issued based on the regular refund instructions provided on a taxpayer's return.

 

Should I call to check on the status?

Our phone lines are typically very busy this time of year. 

Our call center representatives will have the same information available to you online in the "

Check Your Surplus Tax Refund"

 

checker.

If all your information is correct and you think you are eligible, check again at a later date.

Surplus Tax Refund status changes are updated nightly.

Please allow 6-8 weeks for refunds to be issued (if filed by the April 18, 2023 deadline)