:
Department of Revenue Automatically Extending 2019 Filing Deadline
The Georgia Department of Revenue is automatically extending the 2019 income tax filing and payment deadline to July 15, 2020. Vehicle registrations that expire between March 16, 2020 and May 14, 2020 are being extended through May 15, 2020.
MVD Self-Service Tag Kiosk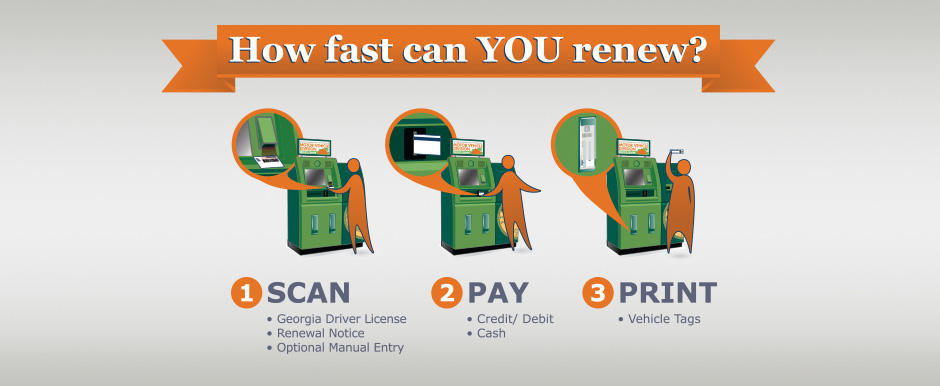 Residents with registered vehicles in participating counties can take advantage of Georgia MVD Self-Service Tag Kiosks for a fast and convenient alternative when completing vehicle registration renewal.
Tag Kiosks use scanning and touchscreen technology to securely update vehicle information through step-by-step instructions and optional voice assistance. Simply follow the guided on-screen instructions. After a successful renewal, documents print instantly at the kiosk.
Vehicle Tag Renewal Requirements:
To use a Tag Kiosk:
Your vehicle(s) must be registered in a participating county.

You must have a valid Georgia State driver's license.

Your address must be correct on your renewal notice.

You must have proof of liability insurance on file (if applicable).

You must have a Vehicle Emission Inspection on file (if applicable).
If you meet all requirements shown above, you may renew up to 10 vehicle registrations per transaction at a kiosk. If you have additional questions, please contact your local County Tag Office.
You can renew in as little as 60 seconds. Watch the video below to see how!
Participating Counties and Locations:
* Participating county only
Banks County*

 

Bibb County
Bridge Pointe Kroger
4321 Hartley Bridge Road
Macon, GA 31216
Sun-Sat 5AM-1AM

Bibb County
Northpark Center Kroger
220 Tom Hill Sr Blvd
Macon, GA 31210
Sun-Sat 6AM-1AM

Brooks County*

 

Burke County*

 

Carroll County
Carroll Kroger
1355 South Park St
Carrollton, GA 30117
Sun-Sat 6AM-1AM

Chattooga County*

 

Cherokee County
Hickory Flats Center Kroger
6766 Hickory Flat Hwy
Canton, GA 30115
Sun-Sat 6AM-1AM

Cherokee County
Towne Lake Square Kroger
2295 Towne Lake Pkwy
Woodstock, GA 30189
Sun-Sat 6AM-1AM

Clay County*

 

Clayton County
Merchants Square Kroger
7125 GA Hwy 85
Riverdale, GA 30274
Sun-Sat 6AM-1AM

Clayton County
Lovejoy Village Kroger
10375 Tara Boulevard
Jonesboro, GA 30236
Sun-Sat 6AM-1AM

Cobb County
4700 Austell Road
Austell, GA 30106
Sun-Sat 6AM-12AM

Cobb County
2932 Canton Road
Marietta, GA 30066
M-F 8AM-5PM

Cobb County
4400 Lower Roswell Road
Marietta, GA 30068
M-F 8AM-5PM

Cobb County
Brownsville Commons Kroger
4400 Brownsville Road
Powder Springs, GA 30127
Sun-Sat 5AM-1AM
Cobb County
Shallowford Falls Kroger
3162 Johnson Ferry Road
Marietta, GA 30062
Sun-Sat 6AM-1AM
Cobb County
Smyrna Kroger
3240 South Cobb Drive SE
Smyrna, GA 30080
Sun-Sat 6AM-1AM

Cobb County
West Marietta Crossing Kroger
1000 Whitlock Avenue NW
Marietta, GA 30064
Sun-Sat 6AM-1AM

Cook County*

Coweta County*

Crawford County*

Dawson County*

Decatur County*

DeKalb County
4380 Memorial Drive
Decatur, GA 30032
M-F 8AM-4:30PM
DeKalb County
Chapel Hill Commons Kroger
4919 Flat Shoals Parkway
Decatur, GA 30034
Sun-Sat 6AM-1AM
DeKalb County
Cofer Crossing Kroger
4357 Lawrenceville Highway
Tucker, GA 30084
Sun-Sat 6AM-1AM

DeKalb County
Decatur Kroger
2875 North Decatur Road
Decatur, GA 30033
Sun-Sat 6AM-1AM

DeKalb County
Georgetown Kroger
4498 Chamblee Dunwoody Road
Dunwoody, GA 30338
Sun-Sat 6AM-1AM

DeKalb County
Lithonia Kroger
6678 Covington Hwy
Lithonia, GA 30058
Sun-Sat 6AM-1AM

Department of Revenue
Motor Vehicle Division
4125 Welcome All Road
Atlanta, GA 30349
M-F 7:30AM-4:30PM

Dougherty County*

Douglas County
6200 Fairburn Road
Douglasville, GA 30134
M-F 8AM-5PM

Douglas County
Douglasville Kroger
8501 Hospital Drive
Douglasville, GA 30134
Sun-Sat 6AM-1AM

Douglas County
Park Plaza Kroger
3251 Highway 5
Douglasville, GA 30135
Sun-Sat 5AM-1AM

Fayette County
Braelinn Village Kroger
564 Crosstown Drive
Peachtree City, GA 30269
Sun-Sat 5AM-1AM

Forsyth County
Bethelview Plaza Kroger
5550 Bethelview Road
Cumming, GA 30040
Sun-Sat 6AM-1AM

Forsyth County
Grassland Crossing Kroger
5665 Atlanta Hwy
Alpharetta, GA 30004
Sun-Sat 6AM-1AM

Forsyth County
Keith Bridge Commons Kroger
2655 Freedom Pkwy
Cumming, GA 30041
Sun-Sat 6AM-1AM

Fulton County
Citi Center Shopping Kroger
2685 Metropolitan Parkway SW
Atlanta, GA 30315
Sun-Sat 6AM-1AM

Fulton County
Glenwood Place Kroger
800 Glenwood Ave. SE
Atlanta, GA 30316
Sun-Sat 6AM-1AM

Fulton County
Kroger Atlanta
725 Ponce De Leon Ave NE
Atlanta, GA 30306
Sun-Sat 5AM-1AM

Fulton County
Piedmont Peachtree Crossing Kroger
3330 Piedmont Road NE
Atlanta, GA 30305
Sun-Sat 6AM-1AM

Fulton County
Saddlebrook Kroger
10945 State Bridge Road
Alpharetta, GA 30022
Sun-Sat 5AM-1AM

Fulton County
Sandy Springs Kroger
227 Sandy Springs Place NE
Sandy Springs, GA 30328
Sun-Sat 6AM-1AM

Gwinnett County
750 South Perry Street
Lawrenceville, GA 30046
M-F 7AM–7PM
Sat 8AM-5PM

Gwinnett County
2735 Mall of Georgia Boulevard
Buford, GA 30519
Sun-Sat 24 Hours

Gwinnett County
Dacula Kroger
505 Dacula Road
Dacula, GA 30019
Sun-Sat 6AM–1AM

Gwinnett County
Dean Taylor Crossing Kroger
2121 Lawrenceville Suwanee Road
Suwanee, GA 30024
Sun-Sat 6AM–1AM

Gwinnett County
Reynolds Crossing Kroger
3093 Steve Reynolds Boulevard
Duluth, GA 30096
Sun-Sat 6AM–1AM

Gwinnett County
Rockbridge Village Kroger
1227 Rockbridge Road SW
Stone Mountain, GA 30087
Sun-Sat 6AM–1AM

Hall County
Gainesville Kroger Marketplace
1931 Jesse Jewell Pkwy SE
Gainesville, GA 30501
Sun-Sat 6AM–1AM

Haralson County*

Heard County*

Henry County
Ellenwood Kroger
101 Fairview Road
Ellenwood, GA 30294
Sun-Sat 6AM-1AM

Henry County
McDonough Crossing Kroger
301 Jonesboro Road
McDonough, GA 30253
Sun-Sat 6AM-1AM

Houston County
Nixon Crossing Marketplace Kroger
774 Highway 96
Bonaire, GA 31005
Sun-Sat 24 Hours

Jackson County*

Jefferson County*

Lamar County*
McDuffie County*
Murray County*

Newton County
Newton Kroger
5341 Highway 20 South
Covington, GA 30016
Sun-Sat 6AM-1AM

Oconee County*

Pickens County*

Polk County*

Quitman County*

Richmond County
3464-A Peach Orchard Road
Augusta, GA 30906
M-F 8:30AM-5PM

Richmond County
Washington Walk Kroger
2801 Washington Road
Augusta, GA 30909
Sun-Sat 6AM-1AM

Rockdale County
Conyer Square Kroger
1745 GA-138 SE
Conyers, GA 30013
Sun-Sat 5AM-1AM

 Troup County*

 Upson County*

 Walker County*

Walton County
Loganville Kroger
4753 Atlanta Highway
Loganville, GA 30052
Sun-Sat 24 Hours
Whitfield County*
Transaction Processing Time
The average transaction takes less than two minutes. After a successful renewal, documents print immediately at the kiosk, including registration certificates, renewal decals, and others.
Payment Options
Accepted payment options include credit or debit cards (AMEX, Discover, MasterCard and Visa) and cash where available.
Fees
There may be convenience fees applied to kiosk transactions. These fees are in addition to the other fees and taxes due at the time of renewal. Your renewal notice reflects the total fees due, excluding the convenience fees. 
Locations and Hours of Availability
Tag Kiosks are only available to residents in participating Georgia counties. If your county participates, you may use any other kiosk in the state. Some counties offer extended service hours at partner locations. Hours and locations vary by county.