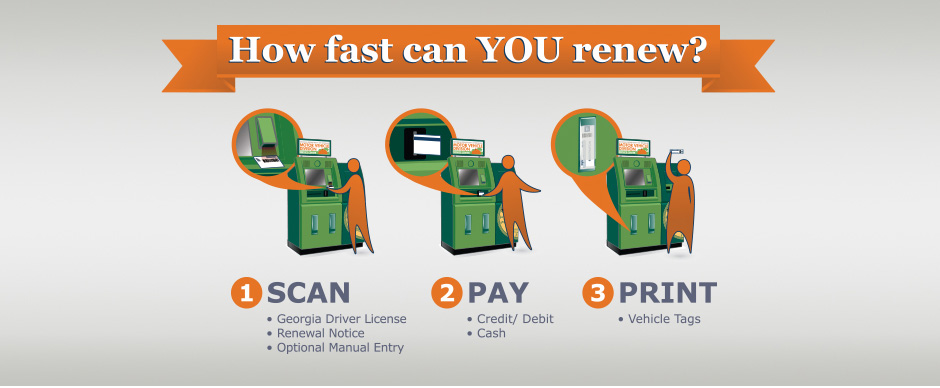 Residents with registered vehicles in participating counties can take advantage of new Georgia MVD Self-Service Tag Kiosks for a fast and convenient alternative when completing vehicle registration renewal.
Tag Kiosks use scanning and touchscreen technology to securely update vehicle information through step-by-step instructions and optional voice assistance. Simply follow the guided on-screen instructions. After a successful renewal, documents print instantly at the kiosk.
Vehicle Tag Renewal Requirements:
To use a Tag Kiosk:
Your vehicle(s) must be registered in a participating county.

You must have a valid Georgia State driver's license.

Your address must be correct on your renewal notice.

You must have proof of liability insurance on file (if applicable).

You must have a Vehicle Emission Inspection on file (if applicable).
If you meet all requirements shown above, you may renew up to 10 vehicle registrations per transaction at a kiosk. If you have additional questions, please contact your local Tax Commissioner's Tag Office.
You can renew in as little as 60 seconds. Watch the video below to see how!
Participating Counties and Locations:
* Participating county only

 
 

Banks County*
 

Bibb County
Northpark Center Kroger
220 Tom Hill Sr Blvd
Macon, GA 31210
Sun-Sat 6AM-1AM

Carroll County
423 College Street
Carrollton, GA 30117
M-F 8AM-5PM

Clayton County
Lovejoy Village Kroger
10375 Tara Boulevard
Jonesboro, GA 30236
Sun-Sat 24 Hours

Cobb County
700 South Cobb Drive
Marietta, GA 30060
M-F 8:30AM-5PM

Cobb County
4700 Austell Road
Austell, GA 30106
Sun-Sat 24 Hours

Coweta County*

Crawford County*

Dawson County*
 

Dekalb County
Embry Village Kroger
3559 Chamblee Tucker Road
Atlanta, GA 30341
Sun-Sat 24 Hours

Dekalb County
Decatur Kroger
2875 North Decatur Road
Decatur, GA 30033
Sun-Sat 24 Hours

Department of Revenue
Motor Vehicle Division
4125 Welcome All Road
Atlanta, GA 30349
M-F 7:30AM-4:30PM

Douglas County
Douglasville Kroger
8501 Hospital Drive
Douglasville, GA 30134
Sun-Sat 24 Hours

Fulton County
Sandy Springs Kroger
227 Sandy Springs Place NE
Sandy Springs, GA 30328
Sun-Sat 24 Hours

Fulton County
Center City Shopping Kroger
2685 Metropolitan Parkway SW
Atlanta, GA 30315
Sun-Sat 24 Hours

Gwinnett County*

Hall County
Gainesville Kroger Marketplace
1931 Jesse Jewell Pkwy SE
Gainesville, GA 30501
Sun-Sat 6AM – 1AM

Haralson County*

Henry County
Department of Driver Services
619 Tanger Blvd
Locust Grove, GA 30248
T-F 8AM-6PM
Sat 8AM-12PM

Henry County
Ellenwood Kroger
101 Fairview Road
Ellenwood, GA 30294
Sun-Sat 6AM-1AM

Jackson County*

Newton County*

Oconee County*

Richmond County
3464-A Peach Orchard Road
Augusta, GA 30906
M-F 8:30AM-5PM
Sat 8:30AM-12PM

Rockdale County*

Walton County
Loganville Kroger
4753 Atlanta Highway
Loganville, GA 30052
Sun-Sat 24 Hours

Whitfield County
Dalton Shopping Center Kroger
1364 W Walnut Avenue
Dalton, GA 30720
Sun-Sat 24 Hours
Transaction Processing Time
The average transaction takes less than two minutes. After a successful renewal, documents print immediately at the kiosk, including registration certificates, renewal decals, and others.
Payment Options
Accepted payment options include credit or debit cards (AMEX, Discover, MasterCard and Visa) and cash where available.
Fees
There may be convenience fees applied to kiosk transactions. These fees are in addition to the other fees and taxes due at the time of renewal. Your renewal notice reflects the total fees due, excluding the convenience fees. 
Locations and Hours of Availability
Tag Kiosks are only available to residents in participating Georgia counties. If your county participates, you may use any other kiosk in the state. Some counties offer extended service hours at partner locations. Hours and locations vary by county. 
MVD Self-Service Tag Kiosk FAQs